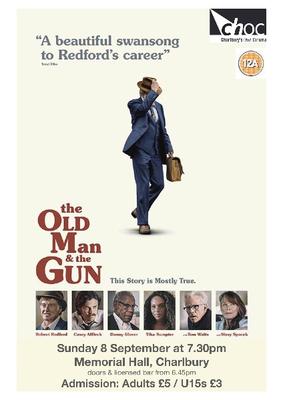 This event is in the past.
Cert. 12 / 1hr 33 mins.
An elderly man is driving down a Texan freeway when he sees a woman whose car has broken down. He offers her a lift and she accepts. They start talking and soon strike up a rapport. She asks him what he has been doing. He replies 'robbing a bank'.  She laughs, as most of us would.  But what he says is true.  The man is Forrest Tucker (Robert Redford), a career criminal who has recently escaped from San Quentin prison and is responsible for a string of bank robberies across the USA over the course of many decades.
Based on a true story, and widely reputed to be the last movie of Redford's illustrious career, The Old Man & the Gun is a warm and charming film with an old-fashioned feel somewhat redolent of 1980s cinema.  It features a masterful central performance by Redford and acts as a fitting swansong for the great Hollywood star.
Memorial Hall Charlbury at 7.30pm
(doors & licensed bar from 6.45pm)
Admission: Adults £5 / U15s £3