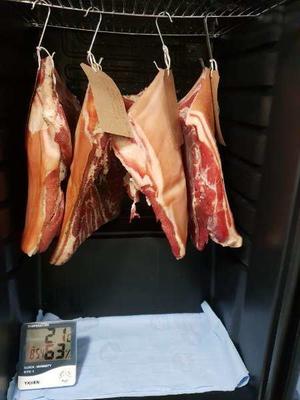 Details
Start: 10am, Finish 12.30pm
Cost: £35.00
Location: The Curiosities Company, 39 Sheep Street, Charlbury
Hands on Course
Our bacon course will teach you how to turn a pork belly into a delicious piece of meat which will keep for a long period of time in your home fridge. You'll create a cure, add some optional flavour, and take home some belly to turn into bacon. Once dried, it will provide you with approximately 30 slices of bacon.
Meat is a treat. All our pork is Organic from Helen Browning's Organic, Bishopstone, Wiltshire and possibly some from Cling Clang Farm in Enstone, just a few miles up the road.
The salt used for curing is from Halen Mon on Anglesey.
Most of our flavours are Organic from Just Ingredients, locally foraged or grown in our own or some of our friends gardens.
Course Content
Safety - how to keep and make safe bacon
Some history - a bit about the history of bacon making and its origins
Why do we make bacon?
How are the different types of bacon made? - there are a number of different processes, we're concentrating on one simple one.
What are the goals? - fabulous tasty bacon :)
Some science - how does curing work?
Some mystery - a bit about the mystery of bacon, and wowing your friends
Hands on.. - we get practical and cut up some pork and make a cure
Experimentation - what you can do to experiment with your own recipes at home
Try some.. - cook a bit of Curious Bacon and see what you think
Ingredients and suppliers - where to buy the ingredients you'll need