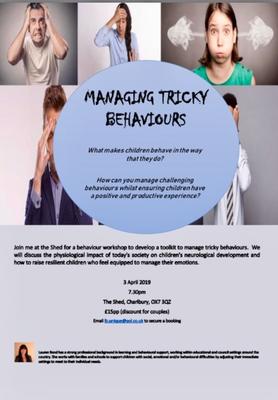 This event is in the past.
Join me at The Shed for a behaviour workshop to collaboratively develop a toolkit to manage tricky behaviours. I will speak about the impact of today's society on children's neurological development and the concepts of attachment to highlight the communication behind the behaviour.
The workshop will be interactive and informal and a time to discuss various ways of managing tricky behaviour whilst ensuring all have a positive and productive experience.
£15pp and £25 per couple.
Please email lb.unique@aol.co.uk to secure your place or purchase a ticket at
https://paypal.me/LaurenBondUnique?locale.x=en_GB
Hope to see you there.
http://linkedin.com/in/lauren-bond-behaviour-consultancy