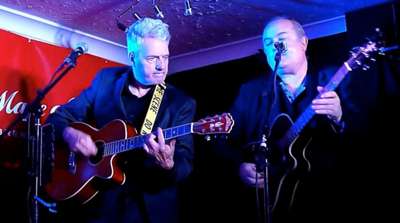 This event is in the past.
The Sepia Swing Show Twins. Last time here, this duo gave us a fabulous evening of old-style blues and jazz, so come on down and give them a big welcome, and be prepared for another great night!
The Sepia Swing Show Twins consist of UK Blues award nominee, David Raphael on Harp/Guitar/Vocals and internationally acclaimed Guitarist/Vocalist, Nick Hyde.
The twins deliver 'jaw dropping harmonica, magical guitars and awesome harmonies', covering a seamless set of Blues / Jug / Roots / Folk and Jazzy grooves (circa: 1840 ?" current day).
This is "toe tapping and table banging stuff and most of all, audience participation time".
Dave & Nick have played all over Europe with the likes of Lazy Lester, Little Jimmy Reed, The Bayou Brothers from San Diego…..from Finland to Portugal, France to Norway, Denmark to Spain. These guys have shared the biggest festival stages with many of the finest around.