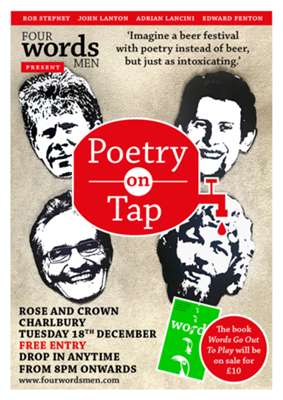 This event is in the past.
FOUR WORDSMEN present POETRY ON TAP at the Rose and Crown. FREE ENTRY any time from 8pm onwards
Rob Stepney, John Lanyon, Adrian Lancini and Ed Fenton bring their innovative show to the Rosey.
Imagine a beer festival with poetry, prose and stories instead of beer, but just as intoxicating. During the evening there will be three sets offering different flavours and strengths, so pop in any time to sample.
Great beer and other fine beverages will, of course, be available from the bar too!
The quartet's book, Words Go Out To Play ('a perfect Christmas gift') will also be available on the night.
Please visit www.fourwordsmen.com for samples of our books and performances.