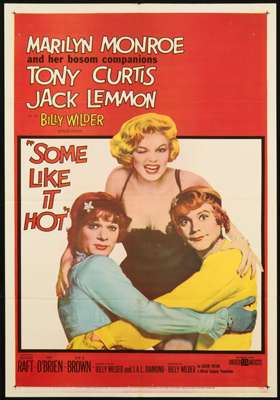 This event is in the past.
Cert. 12 / 116mins
Last February, the first entry in our new ChOC Classic Cinema strand, Brief Encounter, attracted a large and very attentive audience, who braved a chilly winter's evening to reappraise one of the best British films ever made.

2019's ChOC Classic hails from the other side of the Atlantic. Made in 1959 by the legendary Billy Wilder, Some Like It Hot stars Jack Lemmon and Tony Curtis as two down-at-heel Chicagoan jazz musicians who inadvertently witness the St Valentine's Day Massacre. They succeed in escaping the clutches of a vicious mob run by the sinister 'Spats' Colombo (George Raft) by securing jobs with a touring band of female musicians in the new guises of 'Josephine' and 'Daphne'. On a train to Miami, they make the acquaintance of the bewitching 'Sugar' Kane (Marilyn Monroe) and Josephine (Curtis) quickly falls in love with her, later pursuing her in Florida disguised as an oil magnate. Daphne catches the eye of wealthy playboy Osgood Fielding the Third (Joe E. Brown) and so, for a while, our heroes' major dilemma involves trying to extricate themselves from the romances that their enforced cross-dressing have embroiled them in. But when Colombo's mobsters arrive on the scene, Josephine and Daphne have to face up to the rather more pressing task of saving their own necks.
A genuine cinematic classic, Some Like It Hot is an hilarious comedy drama illuminated by superb performances from Lemmon, Curtis and Monroe. This is a film guaranteed to warm the cockles in the depths of winter so please join us to enjoy ChOC Classic Cinema Part 2.
Memorial Hall, Charlbury at 7pm.
(doors & licensed bar from 6.15pm)
Admission: Adults £5 / U15s £3