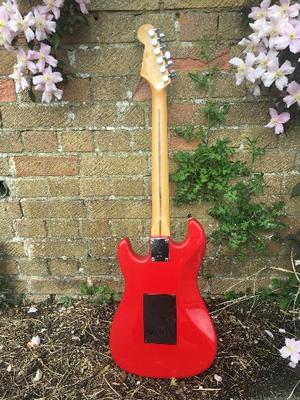 Early Squier Bullet 1 made in Korea. E serial number which dates it to 1989. Sounds great and plays perfectly as it's had a professional fret level, crown and polish plus a full service and setup.
Both body and headstock both have significant cracks that have been repaired. Ugly but solid! Also, the bridge pickup has been replaced. I suspect the knobs, trem cavity cover and truss rod nut are also replacements. A washer has been added to give the truss rod nut enough travel to work properly. Trem works nicely and holds tune well.
It all works as it should and plays fantastically well. These Korean Squiers have great necks and the small body makes it super comfortable. These are vastly superior to modern Squier bullets. The body is solid wood. Not ply. Action is medium/low and the intonation is spot on. Set up for gauge 10 Strings.
James Goad · Wed 4 May, 20:46 · Link