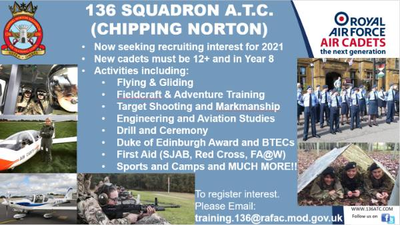 136 Squadron (Chipping Norton) Air Cadets is seeking interest for new cadets in 2021!
Throughout the last year, we have maintained online and socially distanced training with our current staff and cadets. We have delivered quality aviation & engineering studies and lessons, history seminars and a myriad of opportunities for our cadets to grow academically and as good citizens and future leaders.
We would like any prospective cadets/parents aged 12-17 and at least year 8 in school to contact us to register interest in joining our growing squadron. We offer a wealth of subject matter expertise in aviation, engineering, first aid, marksmanship, fieldcraft and leadership. We offer fun, engaging activities that will prepare your son or daughter for a successful life and career in or out of uniform.
Your child can earn Duke of Edinburgh awards, BTECs, flying and engineering scholarships and all activities and classification training programs are fully transferable to their CV. Where else can your child learn to fly, glide, shoot, render life-saving first aid and leadership, all for only £8/month.
Please register your interest to email :
We hope to commence recruitment in the very near future and may offer virtual recruitment to comply with current guidelines.
I am happy to answer questions directly via PM.
Best regards,
Jeff Harrison (Civilian Instructor)
Recruiting Officer
136 Sqd ATC
Jeff Harrison · Mon 11 Jan, 13:17 · Link