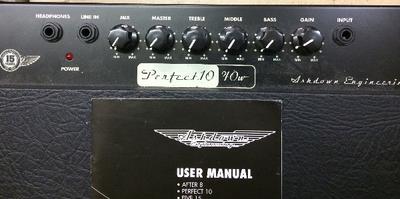 This advert was posted 100 days ago and may no longer be relevant.
I'm selling my Ashdown Perfect Ten bass practice amp to make room for something larger. This model was sold from about 2012 and is now discontinued. It has a 10" speaker and is rated at 40 watts.
It's a perfect practice amp with plenty of bass thump and is also ok for small rehearsals or gigs. There's no line out but there is a very useful line input for music players and a headphone out, so you can play along to tracks and practice in silence if you want.
It's very solid and mine is in pretty much 'out of the box' condition. I've had it over five years and never had any trouble with it. I have the original (skimpy) manual. This would be a great buy for someone starting out on bass or for someone who doesn't want to fire up a gigging rig for practice sessions.
Specs: 
Power Output (RMS) 40W
Speaker Configuration 1 x 10"
Line Input Impedance 1M Ohm, Input range 100mV to 10V
Dimensions: H x W x D (mm) 505 x 444 x 500  Weight (kg) 21.43
Ian Phillips · Tue 9 Apr, 16:21 · Link