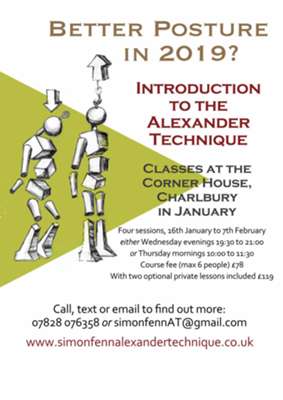 This advert was posted 67 days ago and may no longer be relevant.
This four-session course could be for you if (for example)....
• you're thinking about your posture and movement;
• you're hampered by stiffness and pain;
• your work is giving you "tech neck"?
For over 120 years the Alexander Technique has helped people find relief from back pain, neck pain and stiffness (among other things). Come and learn how it could help you.
For information or an informal chat:
• email simonfennAT@gmail.com
• call or text 07828 076358
www.simonfennalexandertechnique.co.uk

Simon Fenn · Fri 11 Jan, 11:15 · Link