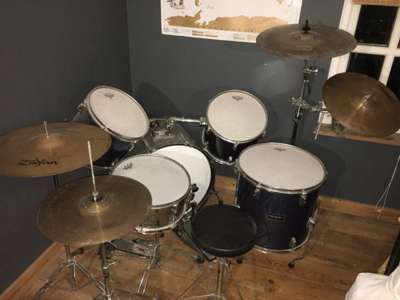 This advert was posted 81 days ago and may no longer be relevant.
Full acoustic drum kit for sale comprising the following:
Peavey high hat
Peavey kick drum
Peavey high, medium and low toms
Peavey snare
Peavey ride cymbal
Peavey crash cymbal
Zildjian crash/ride cymbal 45 cm
Zildjian splash cymbal 20 cm
Cowbell
Vic Firth 5A drum sticks
Chord drum brushes
Drum protectors for every drum and cymbal except for kick drum
Shaw bag for all cymbals and protectors
Peavey drum stool
Extra photos of all component parts available on request.
email mariadajurd@aol.com or call on 07815 081870
You are welcome to come and try them out. They are all set up.

maria jurd · Tue 27 Nov 2018, 18:34 · Link