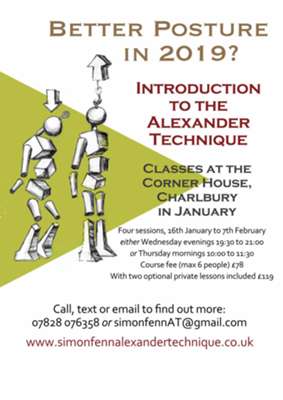 This advert was posted 91 days ago and may no longer be relevant.
For over 100 years the Alexander Technique has been helping people find better posture, freer movement, relief from pain and stress and greater happiness in what they do.
Find out how this gentle, practical discipline could help you. Join an Introductory course at the Corner House, Charlbury in January 2019.
Four weekly sessions on Wednesday evenings or Thursday mornings from 16th January. Maximum six people per group.
£78 for the group course. £119 to include two individual private lessons.
Contact me to talk it over...
Simon Fenn
simonfennAT@gmail.com
07828 076358
Simon Fenn · Tue 20 Nov 2018, 11:05 · Link