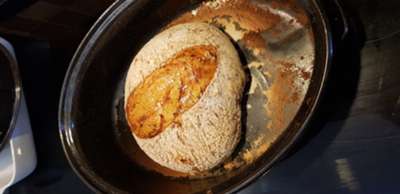 This advert was posted 282 days ago and may no longer be relevant.
NOW FULLY BOOKED.
PLEASE LET ME KNOW IF YOU WOULD LIKE TO ATTEND A FUTURE ONE.
After a successful first run, I'll be running a second course on Saturday 23 June between 11am and 1pm. I have 3 places available.
The course will teach you how to make a simple sourdough loaf, and you'll go home with a starter and some dough to bake yourself the next day. Picture shows one of the loaves baked by an attendee of the first course.
During the course you'll get to try a couple of different styles of bread and have an opportunity to explore other ideas.
Refreshments provided.
Cost is £25 per person.
A number of people have already expressed an interest, so get in quickly.
Simon
Simon Himmens-Warrick · Tue 12 Jun 2018, 10:39 · Link